A relaxing park, living with water.
The Niigata Prefecture Toyanogata Park is a prefectural park spreading around the rich nature of Toyanogata.
It is divided into two areas: the "Meike Area" where the Niigata Prefectural Library and the Niigata Science Museum are located and the "Shumoku Area" which is adjacent to the Niigata City Sangyo Shinko Center.
About the barrier-free access in the park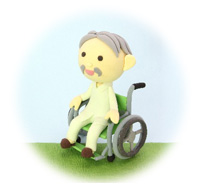 At the Toyanogata Park, we are working on making barrier-free access available so that everyone can comfortably enjoy the park.
The Shumoku Information Center (park management office) is lending out wheelchairs, so please feel free to ask the staff.
Park Rules
Common to Meike and Shumoku
Please take care of the facilities in the park.
Do not collect or catch any plants or animals.
Campfires and fireworks are prohibited.
Do not enter areas marked with "no trespassing"signs or enclosed by fences. These areas are dangerous or are reserved for conservation of the natural environment.
Bring your own trash home. There are no trash cans in the park.
Do not leave young children unattended.
Behavior that is disruptive to other park visitors or park management is prohibited.
In the event of an accident or fire, follow the instructions of park management.
Practicing golf and other dangerous activities are prohibited.
Do not let dogs run free in the park.
Dog owners must take home dog waste and shed fur.
Bike riding is not allowed in the park.
Smoking is only allowed in areas with installed ashtrays.